When we think of shutters, we think of a classic style that instantly elevates at home. Whether in bedrooms, dining rooms, or throughout the home, shutters catch the eye while creating a warm atmosphere. A huge range of styles is available, each with its unique characteristics.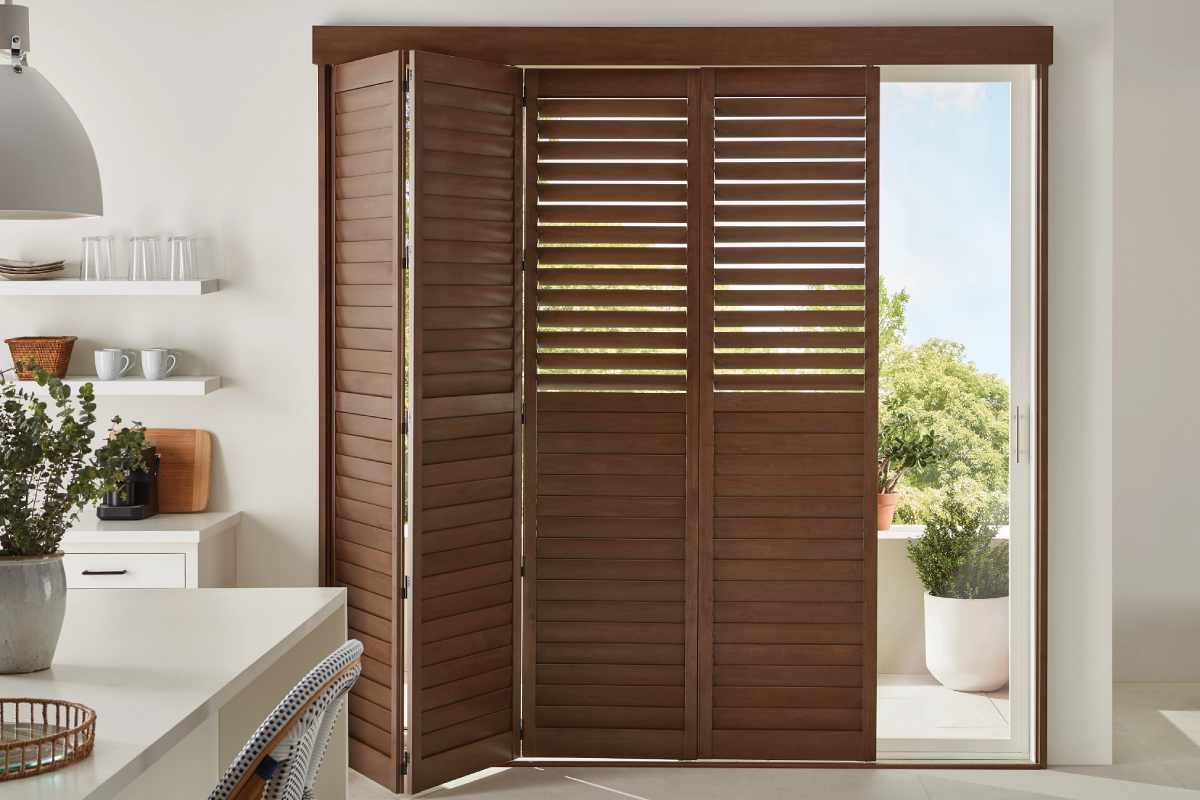 When looking for the perfect shutter for your home, you will come across the decision of composite interior shutters vs. wood interior shutters. So, what's the difference? Which one is best for your home? We have answered these questions and provided our favorite composite and genuine wood shutters from Hunter Douglas.
Wood Interior Shutters
Deciding between composite interior shutters vs. wood shutters involves three significant categories: style, craftsmanship, and placement.
Style: Aesthetically, genuine wood shutters are hard to beat with their rich tones and organic beauty. Hunter Douglas Heritance® Wood Shutters are crafted from basswood or poplar (your choice) and feature a handcrafted collection that enhances the natural occurrences in wood, such as wormholes, burnished, glazed, distressed, and more.
Craftsmanship: Heritance® Wood Shutters are crafted with Truemil® dovetail construction, an industry-leading technique that uses an interlocking mechanism to hold the slats together versus a standard dowel-and-glue system. This ensures that your shutters operate smoothly and look stunning for years.
Placement: Though durable, Heritance® Wood Shutters need careful consideration for placement. Genuine wood shutters do not do well in extremely hot, humid places. Placing them in bathrooms, mudrooms, rooms, and kitchens is not recommended, as the elements can damage the slats over time.
Composite Interior Shutters
Now that you have a better understanding of wood shutters it's now time to learn about composite interior shutters and if they are the best choice for your home.
Style: Composite interior shutters have come a long way in appearance. Though they will never look exactly like genuine wood, Hunter Douglas composite shutters mimic the look of finely painted wood with the low-luster Finetech® finish from Hunter Douglas.
Craftsmanship: Hunter Douglas composite shutters also feature Truemil® dovetail construction, plus the added benefit of manufactured materials. This gives them an extra durability edge and expands the range of rooms they can be placed in.
Placement: Since Hunter Douglas composite interior shutters are crafted with man-made material, they can be placed in rooms with heat or humidity without worrying about warping, fading, bowing, cracking, or peeling. This means you can place them in kitchens, mudrooms, sunrooms, and sunrooms without worry.
Contact Us
Your local window treatment provider since 1998, our team here at Southern Accent Shutters & Blinds is happy to help explore the difference between composite interior shutters vs. wood shutters with you! With over 40 years of combined experience, we know almost every solution for your needs.
Explore our financing options so we can help find an option that is best for you.
With a convenient location in Clayton, North Carolina, we proudly serve Clayton, Raleigh, Cary, Apex, Morrisville, Holly Springs, Fuquay-Varina, Wake Forest, Rolesville, Goldsboro, and Durham, North Carolina. Contact us today!