When it comes to accenting our homes, we often think of the little things. Decorating the walls with pictures, filling tables with flowers, and punctuating our dining room tables with gorgeous centerpieces are just a few examples of what might come to mind. However, accenting your home with different decorative pieces goes far beyond small items like these. It can also include window treatments. In fact, if you were wondering how to accent your home with interior shutters, you have come to the right place. Classic, timeless, and capable of elevating a home the moment that they are put up, plantation shutters are simply a gorgeous addition to your home. That is why we carry several distinct styles of interior shutters that can accent your home appropriately—wood shutters, poly shutters, garage shutters, and bifold shutters.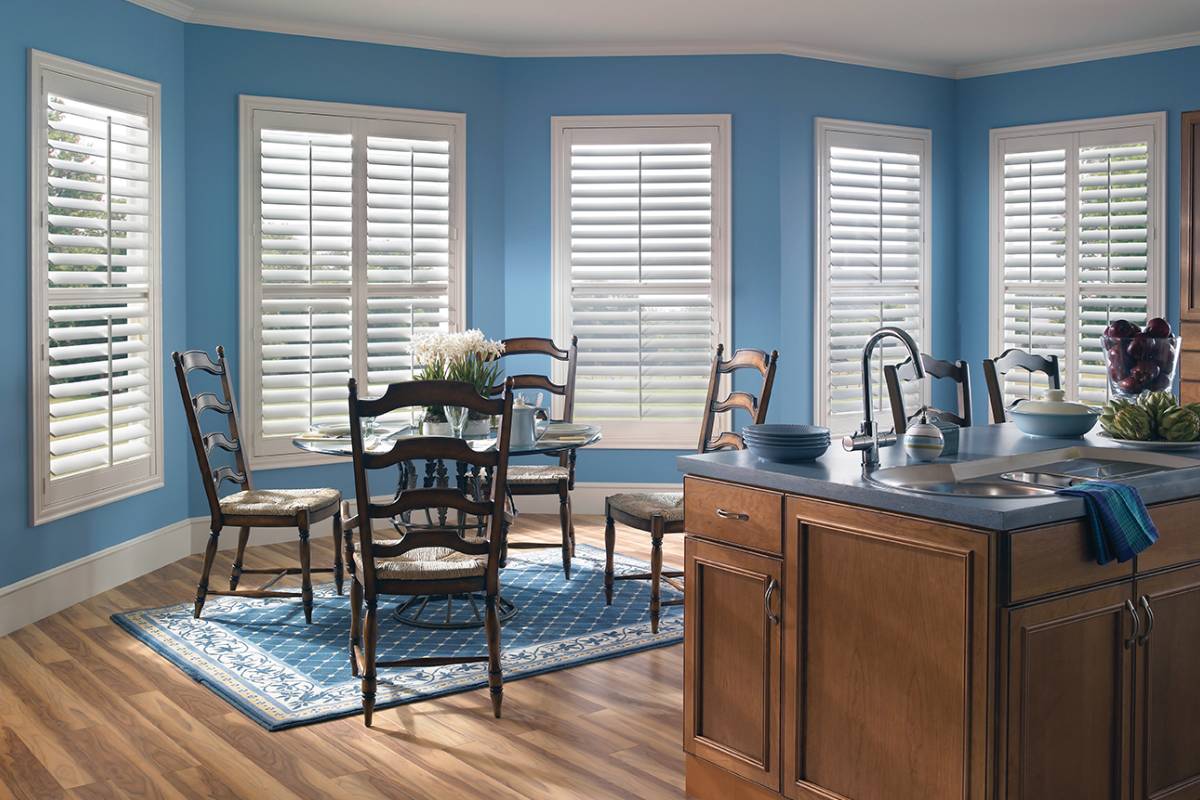 How to Accent Your Kitchen with Plantation Shutters
When it comes to the kitchen, you might think that adding shutters is a recipe for disaster. With all of that heat, moisture, and sunlight, your shutters are as good as damaged, right? Wrong! In fact, our collection of poly plantation shutters can take the daily wear and tear of the kitchen. Made with an UltraSatin™ finish that never has to be repainted or refinished, fire-retardant materials, and a non-porous waterproof surface, these shutters are an excellent addition to your kitchen. Plus, they are incredibly easy to maintain, so even if there are accidents that happened in the kitchen, you can rest assured that your shadows will look good as new with a quick clean.
How to Accent Your Dining Room with Plantation Shutters
The dining room is often a formal place where you gather for holiday dinners, special occasions, or friendly get-togethers. That is why accenting your dining room with our custom hand-built real wood shutters is an excellent option. Our finest product, these window treatments are much more than a window covering. They are often compared to the finest furniture available for your windows. Guests will always complement you on your gorgeous tasting home design the moment they see these genuine wood shutters hanging in your home.
How to Accent Your Garage with Plantation Shutters
If you have a side load garage with windows towards the front of your house or windows that face the street, you will most likely want them covered! If not for security, then for a consistent look throughout your home. That is why we offer garage-grade shutters that can be customized to fit the windows in your space. This will allow for a gorgeous look throughout your home that will not go unnoticed. In fact, plantation shutters are known for elevating the curb appeal of a home, should you ever decide to sell in the future.
How to Accent Your Larger Windows with Bifold Shutters
If you have a large or unique window or pass-through area, bifold plantation shutters offer a treatment that accordions open with minimal stack-back or closes tight for a more private look.
Contact Us
There are many benefits of accenting your home with plantation shutters straight from the factory to you. Be sure to contact or visit us today to learn more about our gorgeous collection of window treatments at Southern Accent Shutters and Blinds. We are located in Clayton, North Carolina, and proudly serve Clayton, Raleigh, Cary, Apex, Morrisville, Holly Springs, Fuquay-Varina, Wake Forest, Rolesville, Goldsboro, and Durham, North Carolina.