Window blinds are useful for more than just keeping sunlight out of your living space; they're strong interior accents that elevate your home's appearance. However, you have to choose the right blinds to receive their full range of benefits.
Below, we'll examine a few common types of window blinds their unique advantages, and where you can find the best window blinds in North Carolina.
Types of Window Blinds
Vertical Blinds
Vertical blinds have individual slats that open and close together by either pulling them from the side or twisting their pulley system. Because of their length, they are classic coverings for tall windows and sliding glass doors.
Vertical blinds are also among the most popular window coverings because of their versatility. They come in all typical window blind materials and color schemes, offering total customization.
Roller Blinds
Roller blinds, or roller shades, attach to a rail above your window and roll vertically up and down. Though homeowners with roller blinds typically use them for smaller windows, you can apply them to your glass doors for a unique, sophisticated aesthetic.
Traditional roller blinds use light fabrics like cotton and wool so that they're easier to roll. Fabric is more complex to clean than traditional wood or aluminum window coverings, but it offers the most color options and gives homes a delicate aesthetic you won't get with denser materials.
Wood Blinds
Wood blinds are the standard window coverings in most homes because of their simplicity and classic appearance. Like vertical blinds, wood blinds have individual slats that operate together with a pulley system, but wood blinds' slats open and close horizontally.
Though these types of window blinds are more limited in their designs than other window coverings, which have more material options, they provide a classic appearance befitting a traditional aesthetic that other materials cannot match.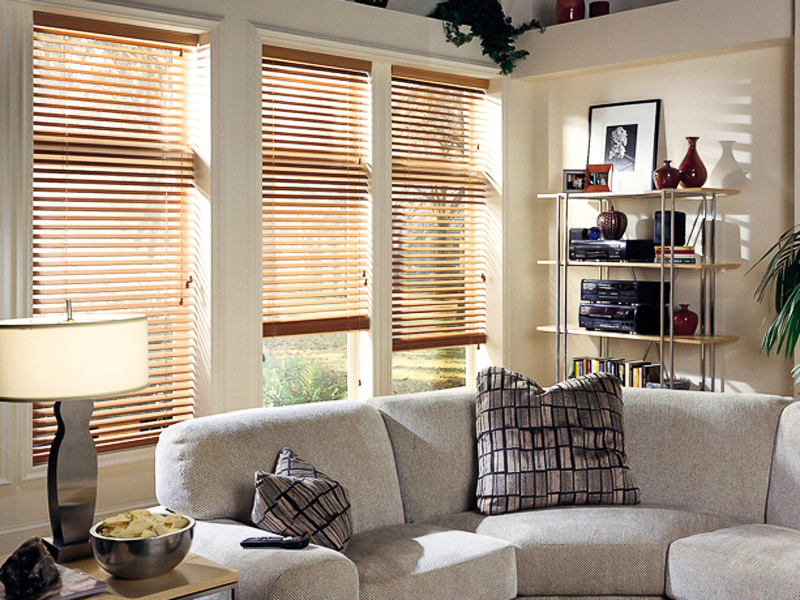 Faux Blinds
Faux blinds look, feel and operate the same as wood blinds; the only difference is their material. While wood blinds use natural timber for their slats and frame, faux blinds use wood-stained PVC that looks nearly identical to natural wood but offers its own unique benefits.
Faux blinds are more moisture-resistant, durable, and affordable than traditional wood blinds. While they won't give your home the classic appearance that natural timber will, they'll get you close for a budget-friendly price.
Types of Window Blinds Materials
Aluminum
Aluminum is easy to clean and customize in any color, and it resists moisture better than most materials, making it an excellent fit for bathroom windows.
The downside of aluminum blinds is that they're more delicate than most alternatives and will dent or bend if you handle them aggressively.
Wood
Wood is a timeless material with great strength and a classic appearance. Unlike aluminum, you won't damage your wood window coverings during cleaning since they are so robust. Additionally, using wood blinds as accents will enhance the room you place them in more than other, less striking materials.
However, despite wood blinds' density, they are sensitive in high-moisture areas and will stain and warp with prolonged contact with water or humid air. Because of their sensitivity, wood blinds work best in rooms without much moisture.
Vinyl
Because of vinyl's strong weather resistance, vinyl window blinds fit well in any room of your home regardless of how much moisture or sunlight that room receives. Additionally, vinyl is more robust than aluminum, so you won't dent or damage it during cleaning.
Vinyl's biggest downside is its appearance, as its more synthetic style won't match traditional interior designs as well as wood or fabric. However, vinyl is easy to stain, so you'll have many colors to choose from when installing these window blinds.
Faux Wood
Faux wood blinds have similar aesthetic and strength benefits as wood blinds but are moisture-resistant enough to fit into bathrooms and kitchens. While faux wood does have subtle design differences compared to natural timber, it offers a similar aesthetic with higher durability for a lower cost.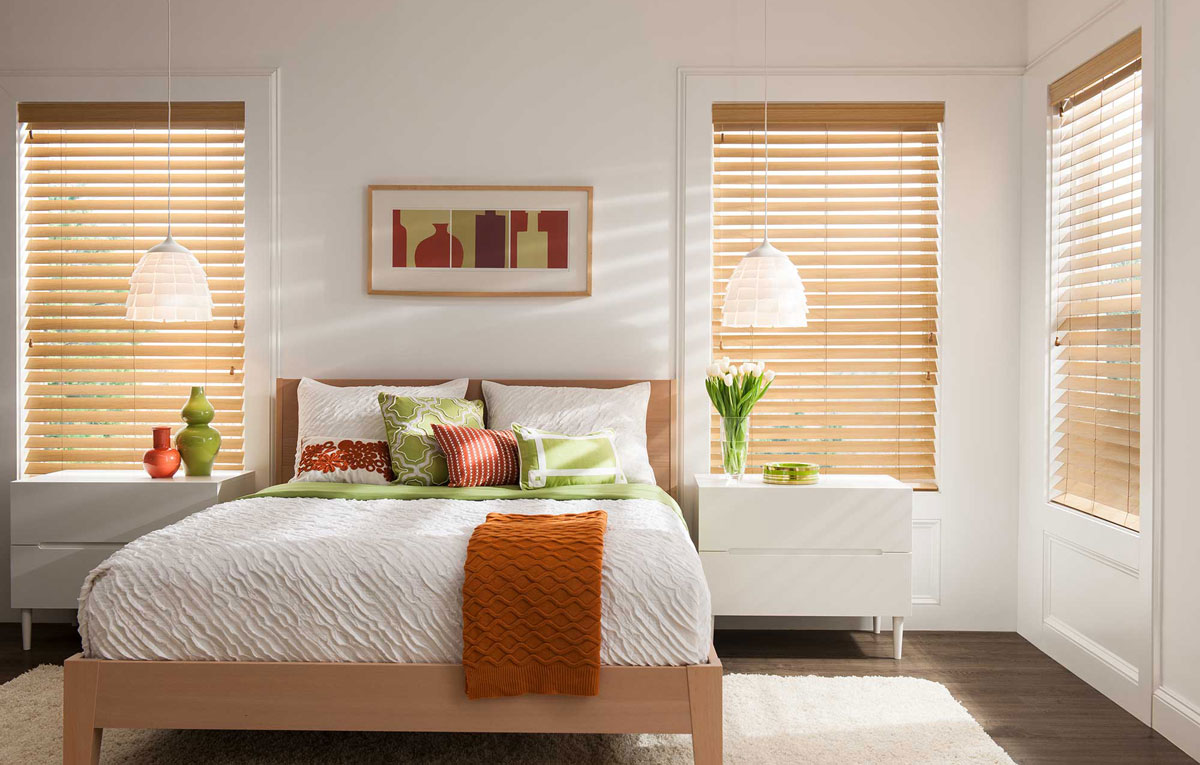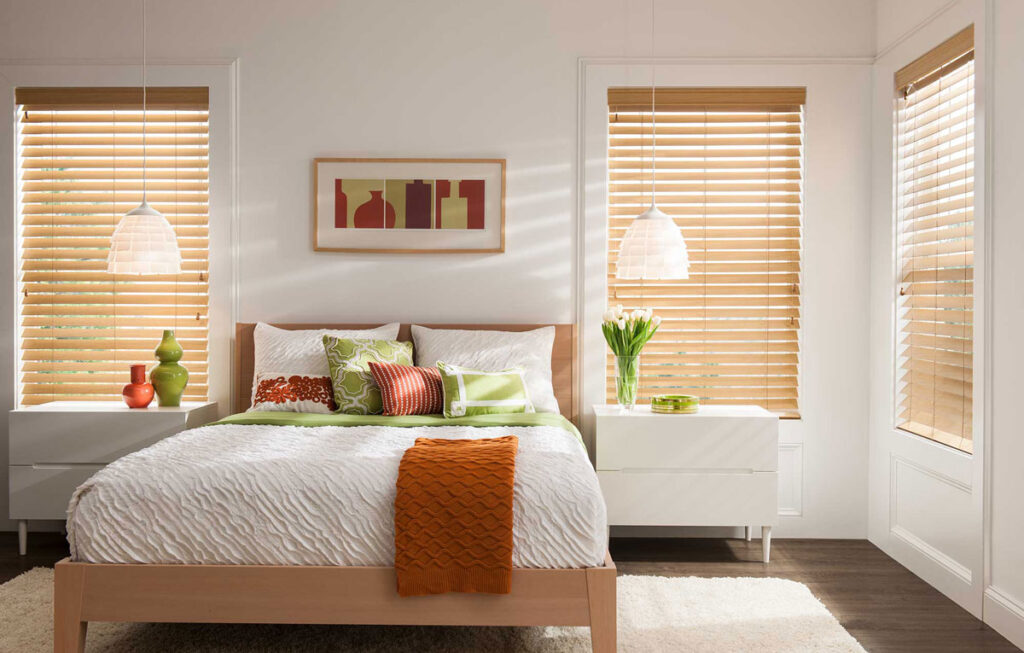 Fabric
Fabric window blinds have the disadvantage of being more challenging to clean than solid, more stain-resistant materials. However, they stand out for their customizability, soft appearance, and versatility.
Window covering manufacturers use fabric to build contemporary coverings like cellular shades, solar shades, and panel blinds (sometimes called a roman shade). While other materials are more robust, you'll have more options when you opt for fabric window blinds over wood, vinyl, or aluminum.
Bring Your Windows To Life with Southern Accent Shutter and Blinds in Raleigh, NC
The many types of window blinds offer near-endless options when designing your home, and there's no better place to shop for them than Southern Accent Shutter and Blinds.
Call us today at (919) 934-4050 to schedule installation for the best window treatments in Raleigh, NC, or learn more about our selection of blinds in Raleigh, NC.