Each home is unique. Often, that uniqueness extends to the shape and size of a home's windows! Oddly shaped windows can be a striking architectural feature, but they can pose challenges when finding suitable window treatments. That's where odd-shaped window blinds from our collection come to the rescue. We explore creative solutions for dressing up those unconventional windows.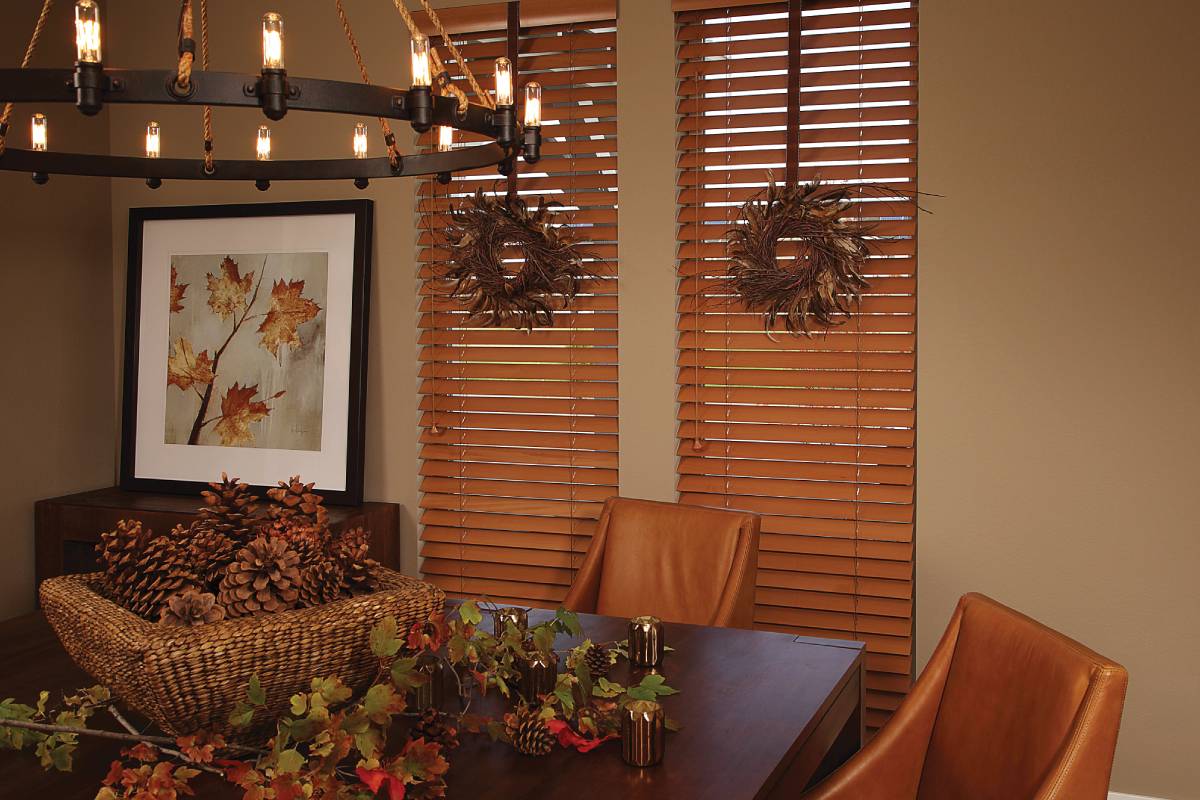 Odd-Shape Window Blinds: Customize for Perfect Fit
Before we dive into our selections, we would be remiss if we didn't highlight how Hunter Douglas celebrates uniquely shaped windows so much so that they can custom cut a variety of their window treatments to fit odd-shaped window blinds like arches, angles, bay windows, corner windows, French doors, cutouts, and more.
1. Genuine Wood Blinds
We suggest genuine wood blinds to cover uniquely shaped windows in timeless elegance. These custom wood blinds perfectly fit your windows' unique dimensions and angles, often including arches, bay windows, corner windows, French doors, and cutouts. Offered in various stunning genuine wood colors, these blinds exude elegance and provide excellent light control and privacy.
2. Faux Wood Blinds
Faux wood blinds are also an excellent option to consider when it comes to odd-shape window blinds. Often available in cuts like arches, angles, bay windows, corner windows, French doors, and cutouts, these alternative wood blinds beautifully fit various windows in your home. They mimic the look of natural wood but are more durable and moisture-resistant. You can place these blinds in kitchens, bathrooms, sunrooms, and other windows.
3. Metal or Aluminum Blinds
If you want to dress up small or oddly shaped windows with a streamlined style, metal or aluminum blinds are an excellent choice. Aluminum blinds offer a sleek and modern appearance that can enhance the aesthetics of your space while covering unique expanses of glass like French Doors, bay windows, corner windows, cutouts, and side lights.
4. Vertical Blinds
Custom vertical blinds are another practical solution for windows that are wider than they are tall, such as patio doors, sliding glass doors, and French doors. Offering various gorgeous fabric colors, these vertical blinds enhance your home with unique beauty and ample light control.
Contact Us Today
We have many options for you when it comes to finding the perfect odd-shaped window blinds. Whether you opt for the classic beauty of genuine wood blinds for arched windows, the versatile faux-wood blinds for specialty shapes, the contemporary appeal of metal or aluminum blinds, or functional vertical blinds for expansive windows, there's a solution to fit every unique window shape.
Embrace the opportunity to transform your unconventional windows into stunning focal points by contacting us today at Southern Accent Shutters and Blinds!
Southern Accent Shutters and Blinds is in Clayton, North Carolina, and proudly serves Clayton, Raleigh, Cary, Apex, Morrisville, Holly Springs, Fuquay-Varina, Wake Forest, Rolesville, Goldsboro, and Durham, North Carolina.