Your home is a place to unwind after a long day and to feel refreshed during weekends. One of the easiest ways to achieve this type of relaxation is to create a home that exudes peace. After all, there is a reason we feel calmer in soothing environments, like spas, the beach, and the great outdoors in general.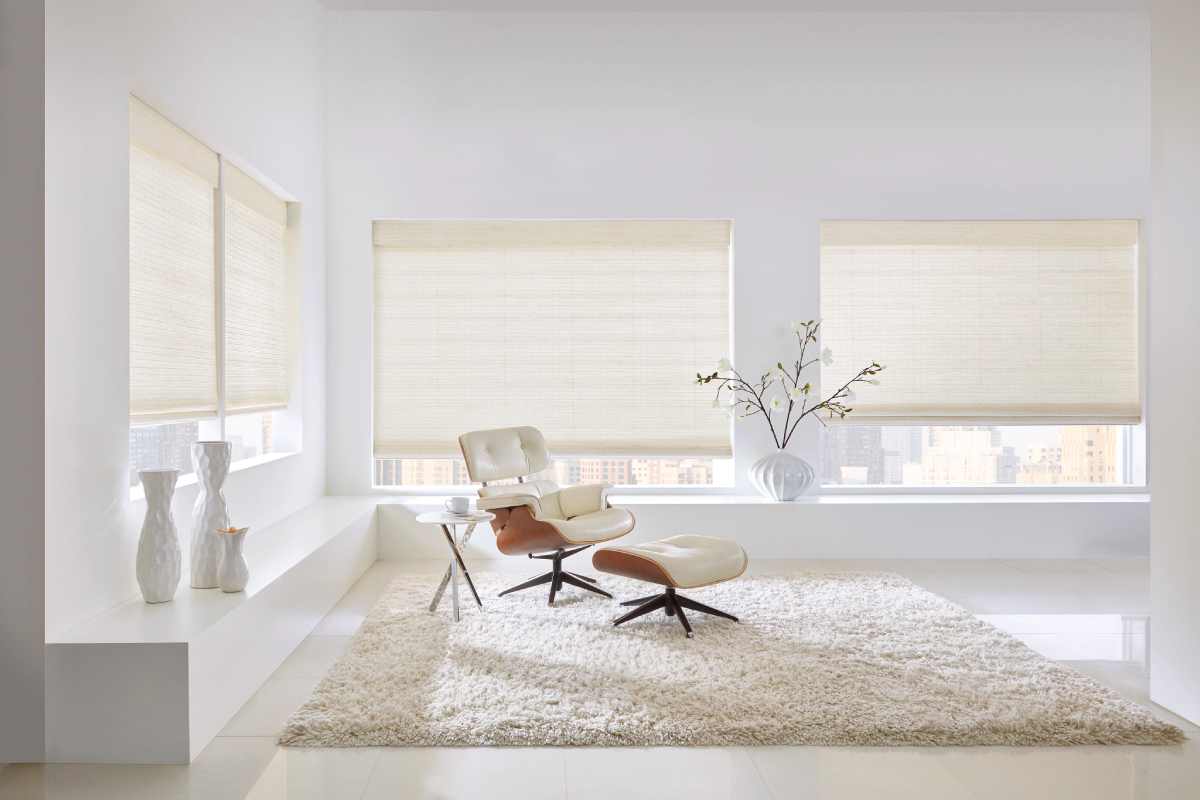 Creating this atmosphere is especially important if you want friends and family to feel at ease when they visit you. However, it is easier said than done when there are so many design inspirations out there! We are excited to discuss our Zen living room tips with you.
Tip 1: Bring Nature to Your Windows
As mentioned, there is nothing more soothing than good old-fashioned nature. That is why one of our Zen living room tips is to add woven wood shades to your windows. Elegant and exotic, our Natural Woven Shades are made with organic fibers – including jute, rattan, bamboo, or wood – to bring global texture into your home.
If you want a relaxing atmosphere in your living room, the natural elements used to create these shades do just that. Our carefully selected bamboo, grasses, reeds, match sticks, and natural woods are available in various textures, patterns, and weaves.
This lets you enjoy very degrees of light filtration and privacy levels so you can create the ideal atmosphere for you and your guests. If you desire even more light control and privacy, consider adding a fabric liner to the shade. Doing so will also provide UV protection, energy efficiency, and a lovely uniform look when you gaze at your windows from the street.
Tip 2: Embrace Neutral Tones
Another one of our Zen living room tips is to embrace soothing neutral tones. Greys, nudes, blushes, soft blues, and calming greens all help lend to the tranquility of a space. Does this mean you have to repaint all the walls in your living room? Only if you want to! If not, adding artwork, furniture pieces, rugs, and other decorative pieces in neutral tones is an excellent way to increase the relaxing feel of your living room.
Adding houseplants (either fake or genuine) is another great way to embrace the natural side of design while not straying too far from an overall neutral style.
Tip 3: Cater to the Senses
Last but not least, our final Zen living room tip is to cater to the senses to create a soothing space—specifically, the sense of smell. Smell is one of the most powerful elements that can impact how we feel. That is why we recommend utilizing candles, wax melts, or essential oil diffusers. Scents that mimic fresh flowers, coastal aromas, or citrus blends can soothe the senses instantly.
Unlock Your Zen Today
To learn more about our Zen living room tips, be sure to contact or visit us today at Southern Accent Shutters & Blind. We are located in Clayton, North Carolina, and proudly serve Clayton, Raleigh, Cary, Apex, Morrisville, Holly Springs, Fuquay-Varina, Wake Forest, Rolesville, Goldsboro, and Durham, North Carolina.